THANASIS POLYKANDRIOTIS IN A FASCINATING CONCERT
WITH SINGERS ARIS KAMPANOS AND AFRODITI CHATZIMINA AND HIS BAND
Watch videos from this concert
AKTINA's Greek Music Journey 2019 featuring Bouzouki Legend of Greece Thanasis Polykandriotis and produced by Elena Maroulleti was crowned with huge success on Friday, May 17th at New York's historic Theater, The Kaye Playhouse at Hunter College. Accompanied by the charesmatic singers, Aris Kampanos and Afroditi Chatzimina and the distinguished musicians, Nikos Stratigos, keyboards, Nikos Kainourgios, acoustic guitar and Nikos Ntarilas, drums, Polykandriotis revived during an uplifting performance exceptional classic laika (popular folk) songs from his personal discography as well as laika, rembetika by other leading Greek composers such as Manos Hadzidakis, Stavros Xarhakos, Mikis Theodordakis, Apostolos Kaldaras, Vasilis Tsitsanis, Manos Loizos among others, including bouzouki instrumentals and solos which truly brought the house down as the maestro displayed his pristine talent on the bouzouki.
WARNING: All rights exclusively reserved by AKTINA Productions, Inc., for all photos posted on this website and they may not be reproduced, re-used by third parties without written consent and permission from AKTINA Productions, Inc.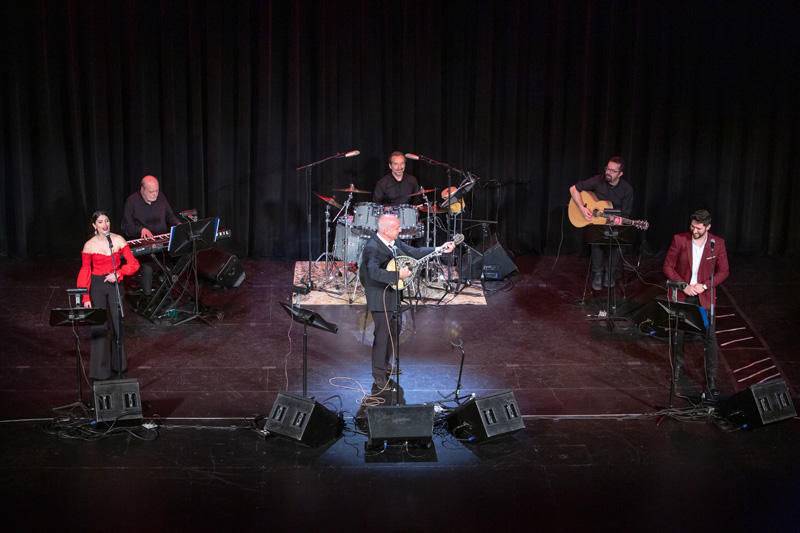 Set in a beautiful atmosphere with immaculate sound provided by the Kaye Playhouse staff and lighting by AKTINA's engineer Thanasis Tzouvelis, the very engaged audience enjoyed an unforgettable and very uplifting performance which lasted for two and a half hours. People clapped and sung along and rewarded the artists with non-stop applause and loud cheers, while there was a lot of seat-dancing and even dancing in the isles. There were also several standing ovations for Polykandriotis for his exceptional talent on the bouzouki.
For his participation in Greek Music Journey 2019 (GMJ) and in acknowledgment of his immense contributions to Greek music, Thanasis Polykandriotis was honored with "AKTINA's Distinguished Artist Award" which is exclusively bestowed upon to very accomplished artists who excel in Greek music. Furthermore, Mr. Polykandriotis and the singers Aris Kampanos and Afroditi Chatzimina were honored with Citations issued by Council Member Costa Constantinides on behalf of the NYC Council and the City of New York in recognition of their participation in AKTINA's GMJ 2019 and for their contributions to Greek music. The highlight of the awards ceremony was the impromptu surprise gesture of Polykandriotis to invite Ms. Maroulleti to dance with him to the sounds of the song "Se Kito Ke Kokkinizeis" (I Look At You and you Blush) by D. Savvopoulos something that further uplifted the cheering audience.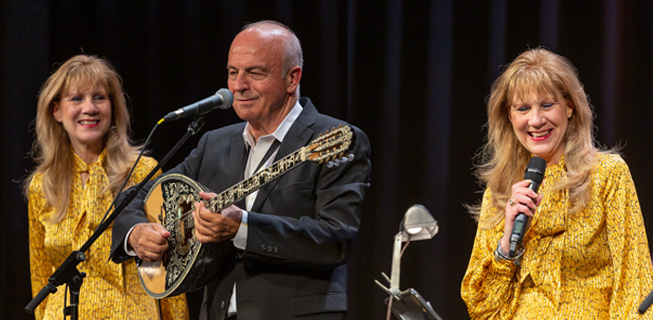 In her welcoming remarks, Ms. Maroulleti thanked and praised all of the participating artists, thanked the audience for attending and supporting this benefit concert for public service media, AKTINA FM and AKTINA TV, AKTINA's volunteer staff, Tom Stouras, Penny Chapman, Georgia Neophytou and Chrysso Neophytou-Tsimis, while special thanks and acknowledgment was also conveyed to the concert's three longtime benefactors, Investors Bank, Ammos Estiatorio in Manhattan and Bayside Diner in Queens for their ongoing support over the years.
The program opened with Polykandriotis in a bouzouki instrumental and then he performed in duet with Afroditi Chatzimina the everlasting classic hit by Manos Hadzidakis, "Odos Oneiron" (Avenue of Dreams). Another renowned classic followed with Aris Kampanos, "Ypomoni" (Patience) by Stavros Xarhakos and Alekos Sakellarios. A medley of beloved rembetika and laika songs followed including "Frangosyriani" by Markos Vamvakaris, "Hatzi Baxes" a/k/a "Baxe Tsifliki" and "I Magissa Tis Arapias" (The Witch of Arapia) by Vasilis Tsitsanis among others.

In welcoming the audience, Polykandriotis expressed his appreciation to all for honoring him with their presence, as well as his heartfelt thanks and appreciation to AKTINA and Elena Maroulleti for hosting him in New York and for their "outstanding hospitality, organization and production."
Among the many great hits presented from the personal discography of Polykandriotis, the audience also sung along to the classics, "Ki Eleges," (You Used to Say), "Ti Ekana Gia Parti Mou" (What Have I Done For Myself), "Oi Andres Den Miloun Poly" (Men Don't Say Much), "Ante Stin Ygia Tis" (To Her Health). The enthused audience also enjoyed Polykandriotis in the renowned and beloved instrumentals, "Evdokias Zeimbekiko" by Manos Loizos and "Hartaetoi" (Kites) by Mikis Theodorakis was exceptionally fascinating earning him two prolonged standing ovations.
The entire performance was termed by all in attendance as, "one of a kind" and "one of the best in recent years". Aris Kampanos, who was AKTINA's guest in April of 2018 for GMJ 2018 captivated the audience once again with his unique and charismatic voice and so did the new and upcoming singer Afroditi Chatzimina who made her debut in the US. The musicians were equally amazing and it was an exceptional experience for the audience to enjoy them live, especially the renowned piano maestro Nikos Stratigos whose contributions to Greek music as pianist and composer stand out for many decades.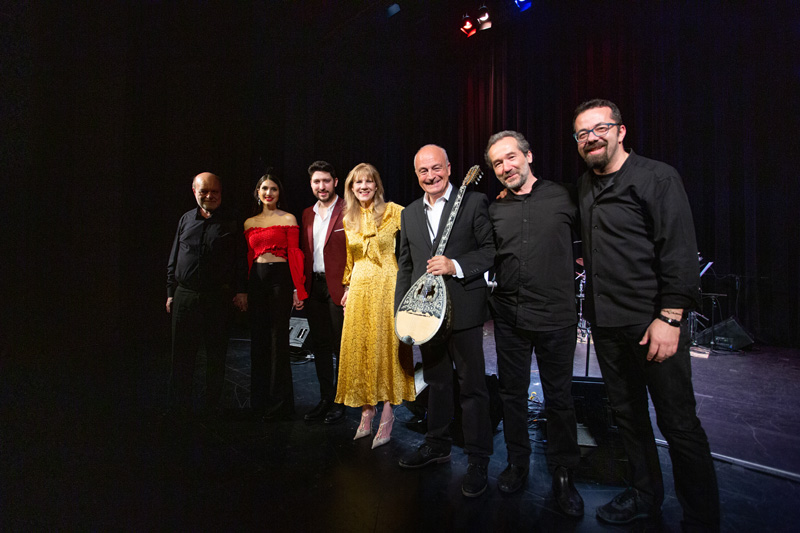 The closing program included a special song dedicated to AKTINA and to Elena Maroulleti on the part of the artists, AKTINA's renowned hit, "Karavia Alites" by M. Loizos and F. Ladis which was beautifully sung by Aris Kampanos. This song is part of AKTINA FM's and AKTINA TV's musical identity since their founding (1993 AKTINA FM and 2002 AKTINA TV) and it is the official theme song during which closes each of their weekly broadcasts on WNYE-FM and WNYE-Channel 25 respectively. After the performance the artists met with the audience in the lobby of the theater where they signed autographs and took photos.
The concert's official photographer was again, Anastasios Mentis Photography whose photographers captured amazing shots of the entire performance.
Photos by Anastasios Mentis Photography. All rights reserved