AKTINA's CONCERT "THE MAGIC OF BOUZOUKI"
HAILED BY ALL AS "MAGICAL!"
GREEK MUSIC JOURNEY 2018 ALSO CELEBRATED THE 25TH ANNIVERSARY OF AKTINA PRODUCTIONS AND AKTINA FM RADIO
Watch videos from this performance
Before a packed theater made up by Greek and non-Greek lovers of Greek music, AKTINA Productions, Inc., celebrated its 25th anniversary with its first major event on April 20th at New York's landmark theater, The Kaye Playhouse at Hunter College. AKTINA presented with an outstanding success the concert, "The Magic of Bouzouki" from its acclaimed concert series, GREEK MUSIC JOURNEY 2018, produced by Elena Maroulleti. The performance, hailed by all in attendance as "magical" and the best of its kind ever presented in New York City featured from Greece the most distinguished musicians and singers of the new generation and certainly the protagonist musical instrument was the bouzouki which was performed by the virtuoso soloist Andreas Karantinis who truly captivated all with his exceptional speed and talent on this leading music instrument of Greek music. Equally captivating were the rest of the band members comprised by Band Leader, Manolis Androulidakis, a prominent guitar soloist, composer, singer and orchestration arranger, the new and upcoming singers Vasiliki Stefanou and Aris Kampanos and the prominent musicians, Tasos Athanasias, accordion and Stratos Samniotis, percussion.


WARNING: All rights exclusively reserved by AKTINA Productions, Inc., for all photos posted on this website and they may not be reproduced, re-used by third parties without written consent and permission from AKTINA Productions, Inc.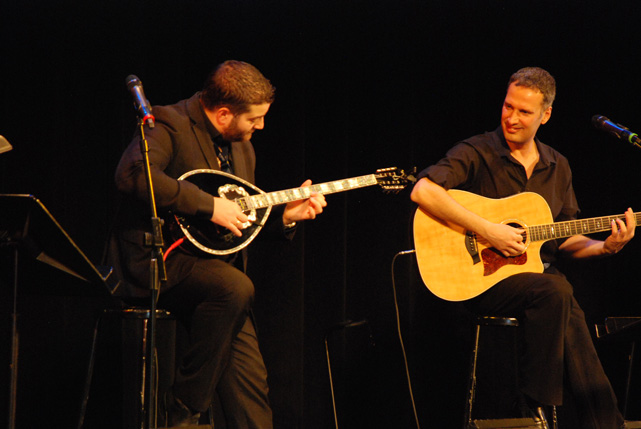 The program opened with Andreas Karantinis accompanied by Manolis Androulidakis on the guitar performing an incredible taxim solo which evolved into an instrumental based on the Vasilis Tsitsanis classic song "Synnefiasmeni Kyriaki" and the Yiannis Stamatiou (a/k/a "Sporos") famous instrumental, "Bouzouki Whiskey". Both artists were rewarded with non-stop applause and cheers.
Manolis Androulidakis then welcomed the audience, introduced the band members and after thanking the AKTINA members and Ms. Maroulleti, he dedicated to them his opening song "Karavia Alites" which is closely tied with AKTINA FM. Composed by Manos Loizos and lyrics by Fontas Ladis, this song is part of AKTINA FM's music identity since its founding and it is the official theme song which closes each of its live broadcasts for the past 25 years.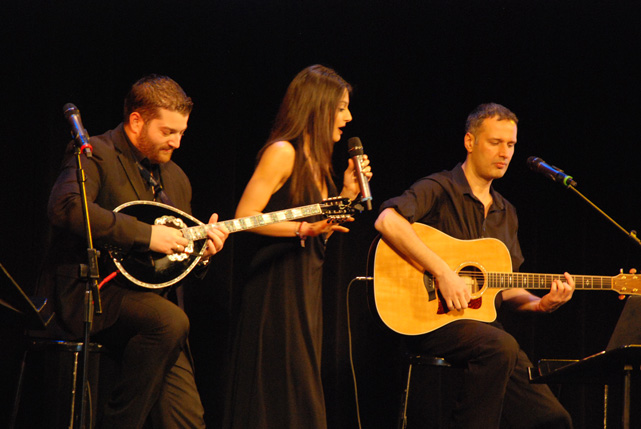 The new and upcoming talented singers, Vasiliki Stefanou and Aris Kampanos followed in duet with the Christos Nikolopoulos and Manos Eleftheriou hit, "Ston Aggelon Ta Bouzoukia" and then each performed classics composed by George Zambetas, Stavros Xarhakos and Mimis Plessas, accompanied by the cheering audience that was singing and clapping along. In a special tribute to composer Mikis Theodorakis, Manolis Androulidakis performed a set of beloved songs which are often enjoyed on AKTINA FM such as "Echeis Matia To Feggari" (You have the moon for eyes), lyrics by Manos Eleftheriou, "Oi Mireoi", lyrics by Kostas Varnalis and "Drapetsona", lyrics by Kostas Lyvaditis. The highlight of the tribute was Andreas Karantinis who literally brought the house down with his exceptional performance of the famous music theme of "Zorba the Greek" from the 1964 award winning film by Michalis Kakogiannis starring Anthony Quinn as Alexis Zorba and Alan Bates. The "Zorbas dance" as it is widely known has given world recognition to Mikis Theodorakis and has become a trademark for Greece.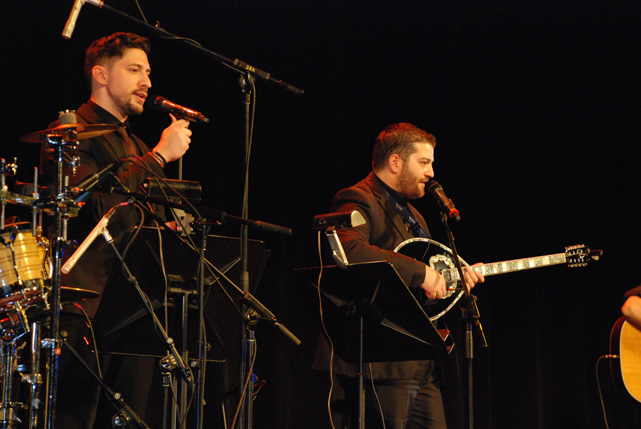 The performance which lasted for over 2 ½ hours revived everlasting classics by almost all Greek leading composers and songwriters of the 20th century who make up the rich musical inheritance of Greece. The fully engaged audience made up by Greek and non-Greek fans of AKTINA of all walks of life and ages turned into a big back up chorus and accompanied the artists throughout the performance. They sung, clapped and cheered along to great and memorable hits by Vasilis Tsitsanis, Grigoris Bithikotsis, Manolis Hiotis, Mikis Theodorakis, Stavros Xarhakos, Mimis Plessas, Stavros Kouyioumtzis and from the later generation, Marios Tokas, Thanos Mikroutsikos, Pantelis Thalassinos, among others.
Aris Kampanos also performed his own personal composed hit "Min Rotas" and Vasiliki Stefanou her hit "Skoularikia" from her personal album "To Eisitirio". The artists also paid a very special tribute to the legendary singer Dimitris Mitropanos whose 6th anniversary since his passing was on April 17th. The crowd sung together with the artists everlasting hits such "S' Anazito sti Saloniki", "S' Agapo San Amartia" and others.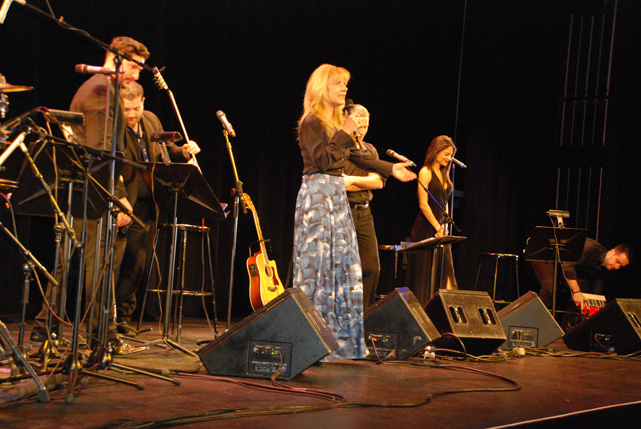 On the occasion of AKTINA's 25th anniversary and the production of this concert, Council Member Costa Constantinides, issued special Citations recognizing the important contributions of each of the participating artists. Although the Council Member who was scheduled to attend was not present due to a sudden illness, Ms. Maroulleti, also the President of AKTINA Productions, Inc., thanked him for the honor he had bestowed upon the artists and to AKTINA two weeks earlier at the City Council with a Special Proclamation recognizing the organization's important contributions during the course of these 25 years. Ms. Maroulleti also thanked and acknowledged the strong support of Investors Bank, the concert's Grand Benefactor, as well as the strong and ongoing support of AMMOS Estiatorio in Manhattan and Bayside Diner in Queens, the concert's media sponsor ANT1 Satellite and all other sponsors. Special thanks were also extended to the audience for attending, to the dedicated volunteers of AKTINA, Tom Stouras, Penny and Doug Chapman, George and Chrysso Neophytou, Caroline Ioannou, Vlassis Anastasiou, Elpida Tsoulogiannis and Michael Tribunella, to the Kaye Playhouse production staff that handled the incredible sound and AKTINA's light engineer Thanasis Tzouvelis who once again offered a special atmosphere to the entire performance with his lighting arrangements.
During the encore performance the crowd was treated with exceptional uplifting songs composed by Vasilis Tsitsanis, George Zambetas and Mikis Theodorakis while the finale included another dynamic bouzouki performance by Andreas Karantinis in the everlasting music theme, "To Zeimbekiko Tis Evdokias" by Manos Loizos.
After the concert the artists spent some time with the enthused guests in the lobby of theater where they showered with compliments for their superb performance, signed autographs, took pictures and also talked to AKTINA TV.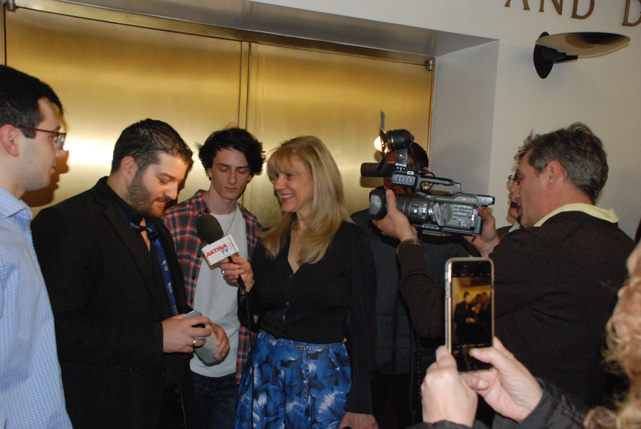 Andreas Karantinis Interviewed by Elena Maroulleti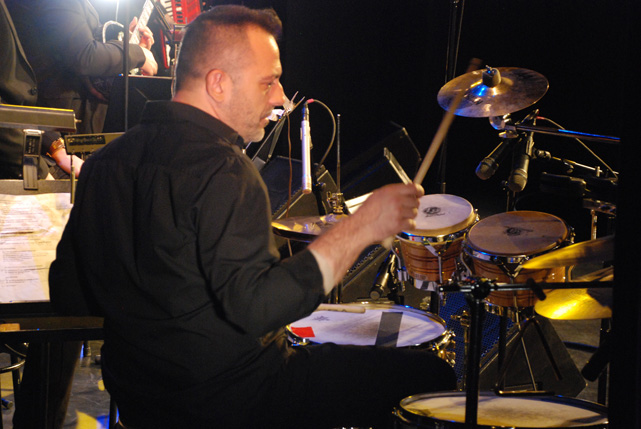 Percussionist Stratos Samniotis GMJ 2018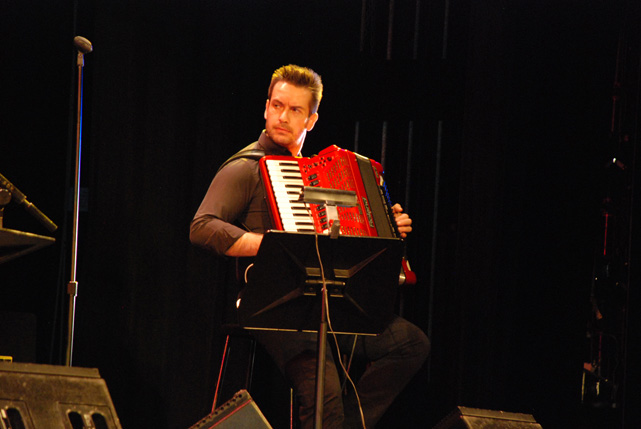 Accordion Player Tasos Athanasias GMJ 2018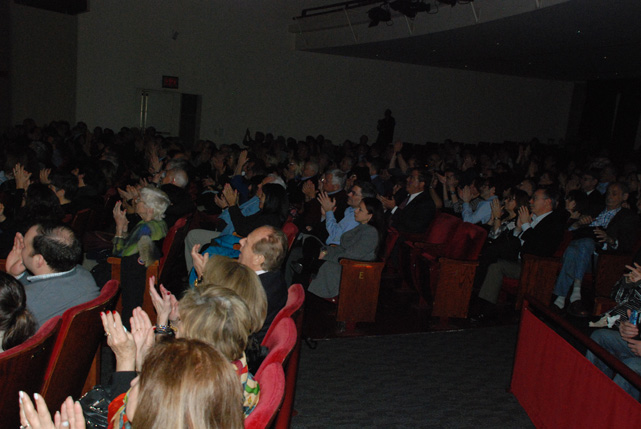 Photos above by: Petros Petrides