NYC COUNCIL HONORS AKTINA AND ITS FOUNDING PRESIDENT ELENA MAROULLETI
WITH A PROCLAMATION ON THE ORGANIZATION'S 25TH ANNIVERSARY
On April 11, 2018, New York City Council Member Costa Constantinides initiated a special ceremony at the NYC Council Chambers at City Hall where the Council Speaker Corey Johnson along with the Public Advocate Letitia James and the rest of the Council Members honored AKTINA Productions, Inc., and Elena Maroulleti, founder and President, on the auspicious occasion of the organization's 25th anniversary. A Proclamation recognizing AKTINA's "25 years of outstanding service and contributions to Greek and Cypriot residents throughout the five boroughs and beyond", signed by the Council Speaker Johnson and Council Member Constantinides was presented to Ms. Maroulleti after the City Clerk read to all in attendance AKTINA's and Ms. Maroulleti's biographical history and achievements during the course of these 25 years.
WATCH NEWS REPORT OF THE CEREMONY AT THE NYC COUNCIL CHAMBERS - APRIL 11, 2018
WARNING: All rights exclusively reserved by AKTINA Productions, Inc., for all AKTINA TV produced videos posted on this website and they may not be reproduced for redistribution by third parties. AKTINA's videos may only be shared with their designated youtube links as they are uploaded by AKTINA TV's Youtube Channel.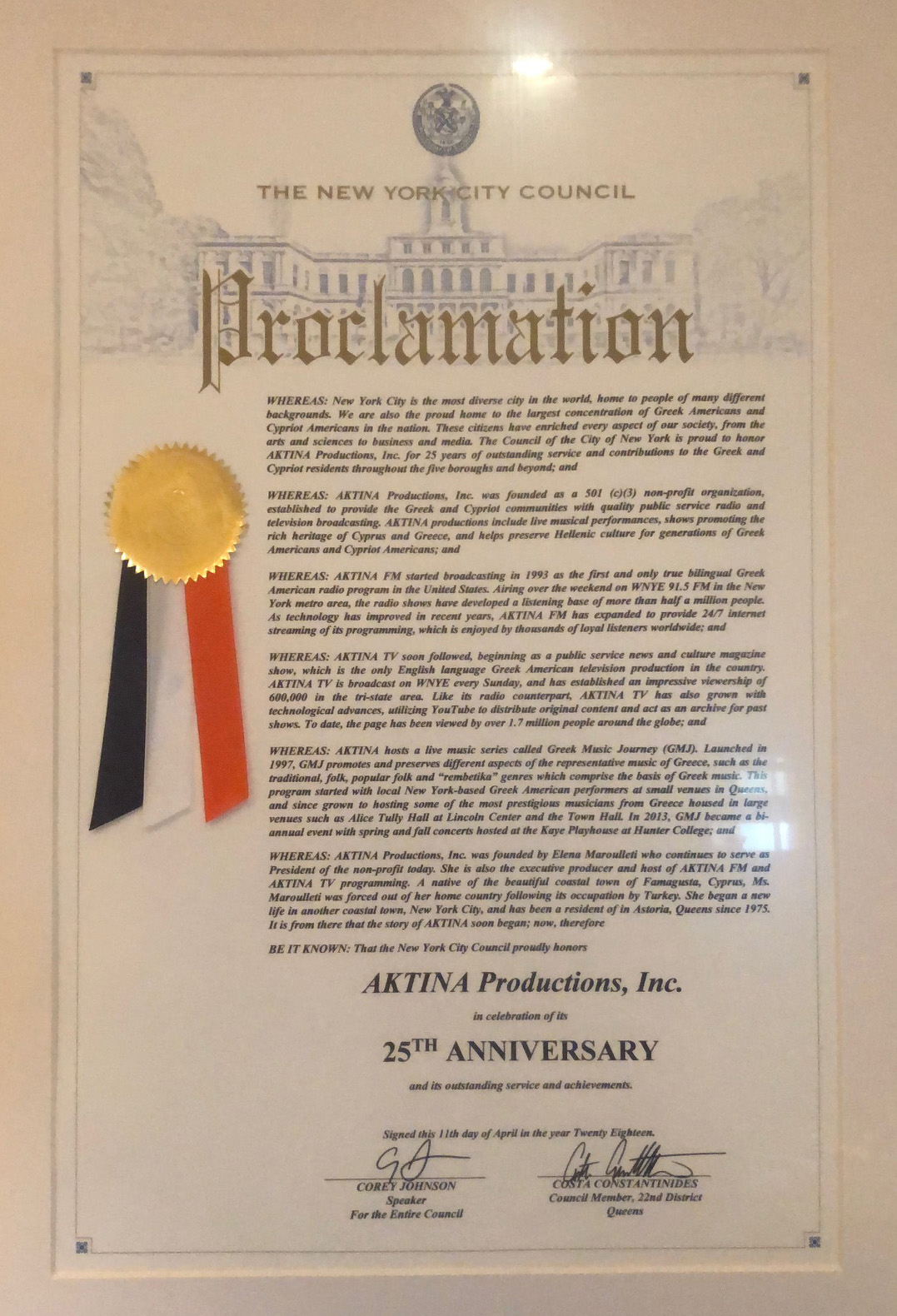 The Proclamation outlines the achievements of AKTINA Productions, Inc., a non-profit and 501 (c ) 3 Media and Arts organization which provides since its founding the popular and highly rated Greek American radio AKTINA FM for the benefit of Greek and G/Cypriot Americans and of the general public. AKTINA FM prides itself for being the first true bilingual radio show introduced in New York City by Elena Maroulleti on public station WNYE 91.5FM and online with a very wide and diverse audience. Since late 2015 AKTINA FM has expanded its presence online with its daily 24/7 broadcasts which contribute in further increasing its loyal listening audience worldwide. With over half a million listeners in the Tri-state area of New York and over a million listeners worldwide AKTINA FM has become a leading Greek American radio voice for both Greek and non-Greek speaking listeners. As an extension of AKTINA FM, in 2002, AKTINA TV was also introduced on WNYE Channel 25. AKTINA TV is the only Greek American TV show broadcasting with an English language format reaching and servicing over 800,000 viewers in the Tri-state area of New York. Like its counterpart, AKTINA TV has also grown with technological advances, and has established its own channel on YouTube to distribute original content and act as an archive for past shows.
The important contributions of AKTINA's acclaimed concert series, "Greek Music Journey" (GMJ) are also acknowledged in the Proclamation. Launched in 1997, GMJ promotes and preserves different aspects of the representative music of Greece, such as the traditional, folk, laika, and rembetika genres which comprise the basis of Greek music. The GMJ series has featured concerts with distinguished and leading stars from Greece in renowned theaters such as the Alice Tully Hall, Lincoln Center, The Town Hall and in recent years exclusively at The Kaye Playhouse at Hunter College.
Finally, the Proclamation recognizes the important contributions of Ms. Elena Maroulleti, founder and President of AKTINA, as well as Executive Producer/Host of both AKTINA FM/TV. A native of the beautiful coastal town of Famagusta, Cyprus, she was forced out of her hometown following the 1974 Turkish invasion and subsequent occupation. She immigrated to the United States in 1975 and began a new life in another coastal town, New York City, and has been residing in Astoria, Queens where she also launched her impressive cultural activities for the promotion of the rich heritage, folklore and history of Cyprus and Greece. In 1979 she founded and established CYPRECO of America, Inc., and thereafter of AKTINA Productions, Inc. Ms. Maroulleti provides her services to both organizations as a non-salaried volunteer. All other Board Members of AKTINA and CYPRECO, including all staff working for the organizations are also non-salaried volunteers.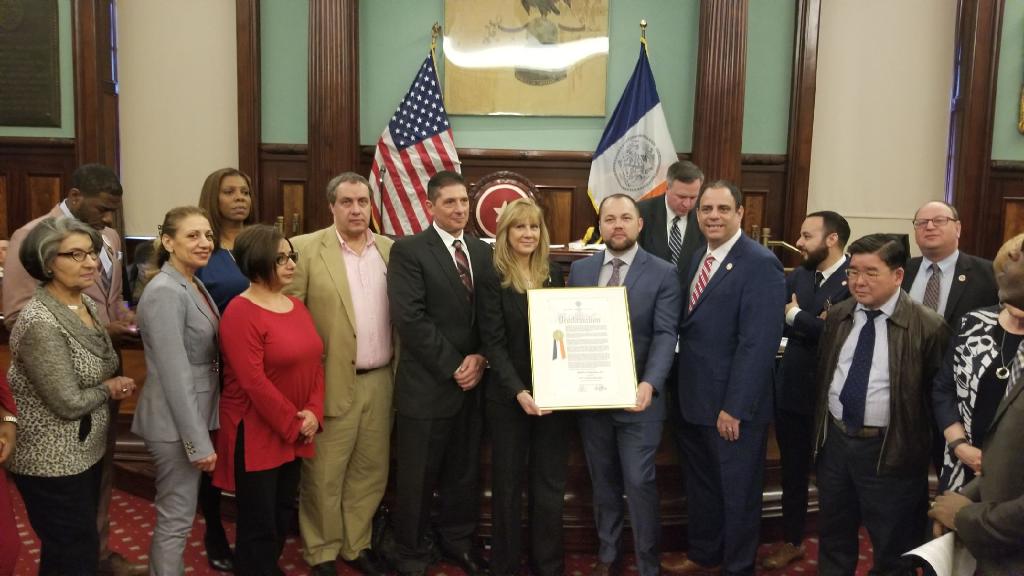 In accepting the Proclamation, Ms. Maroulleti who was surrounded by AKTINA's volunteers and members of the Board of Directors, truly moved expressed her heartfelt thanks and gratitude to Council Member Costa Constantinides who initiated the ceremony, to the Council Speaker, the Public Advocate and to the rest of the Council Members. Referring to the 25th anniversary of AKTINA, she stressed that, "When I came to this country I had a dream to promote Cyprus and Greece and the best place to accomplish this was New York City, this beautiful and diverse City that embraces all cultures and ethnic groups!" Ms. Maroulleti then introduced and also thanked AKTINA's volunteers for their "true commitment and devotion" and their many years of service noting that they "offer their services for absolutely free because they share the same dream and love for Greece and Cyprus". Present where the Board Members, Tom Stouras and Elpida Tsoulogiannis, AKTINA FM/TV volunteers, Chrysso and Georgia Neophytou, Michael Tribunella, Vlassis Anastasiou and Fotis Papagermanos.
NEW YORK STATE ASSEMBLY HONORS AKTINA ON ITS 25TH ANNIVERSARY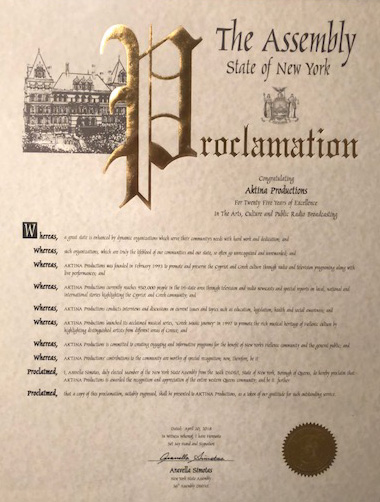 On April 20,2018, New York State Assembly Member Aravella Simotas also honored AKTINA Productions, Inc., with a Proclamation.
The Proclamation among other, "Recognizes AKTINA Productions for Twenty Five Years of Excellence in the Arts, Culture and Public Radio Broadcasting" and furthermore the organization's strong outreach of "950,000 people in the tri-state area of New York through television and radio." In addition the Proclamation honors and recognizes the organization's cultural activities including the "acclaimed musical series Greek Music Journey" and its commitment to produce its multi-faceted activities for the benefit "of New York's Hellenic community and the general public."
The Proclamation was presented to Elena Maroulleti, founder and President of AKTINA Productions, Inc., at the District office of Assembly Member Aravella Simotas.
WARNING: It is strictly prohibited for any third party to reproduce, re-use or distribute any images, logos and photos posted on this website without the written concent and approval of AKTINA Productions, Inc., and of all other third parties whose photos, images or logos are featured. All rights reserved.